S1E15 - The Widowmaker
In which I almost die of a heart attack.
3 years ago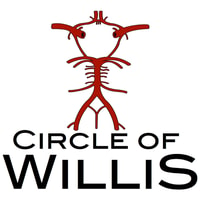 Welcome to the first annual Circle of Willis Halloween Special, THE WIDOWMAKER, in which I tell the story of almost dying recently of a particularly deadly heart attack. If you have a family history of heart disease, if you had a traumatic childhood, if you have been under a lot of stress, for a long period of time, if you work too much, especially in a sedentary job, if you're overweight, if you smoke, if you're hypertensive or have high cholesterol... consider at least chatting with a cardiologist. Make an appointment. Get a calcium scan test. Reflect on your life as it's happening now, not at some future point where you've achieved some kind of goal or real stability or peace and contentment or whatever thing it is.
Think about how you're living this single life you're ever going to have, or even whether you are living that life.
Because The Widowmaker can strike at any time, without warning, on any ordinary day.
It almost got me. Don't let it get you.
* * * As always, remember that this podcast is brought to you by
VQR
and the
Center for Media and Citizenship
. Plus, we're a member of the
TEEJ.FM
podcast network. AND... The music of CIRCLE OF WILLIS was composed and performed by Tom Stauffer and his band
THE NEW DRAKES
. You can purchase this music at
their Amazon page
.