S2E5 - Tim Cunningham, Part 2
The Mystical Power of Humor
1 year ago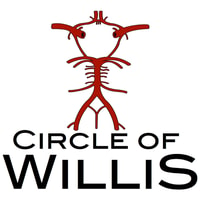 Episode Notes
Welcome to Circle of Willis, my podcast about science and the scientists who do it, brought to you by generous folks at VQR, the Center for Media and Citizenship, and WTJU Radio at the University of Virginia here in Charlottesville.
Folks, sometimes the chaos swirls and the lights dim. Sometimes things go very wrong and we don't know what to do with ourselves. Sometimes those who've dedicated their lives to helping don't know how to help, or, more likely these days, they don't have the tools they need. And despite what you may have heard, laughter is not the best medicine.
But in Part 2 of our conversation, my guest TIM CUNNINGHAM is here to remind us that sometimes laughter is the only medicine available, that laughter can catalyze the kinds of social connections we need most during our times of trial, and that laughter might even make those medicines that are the best more effective.
Maybe that's why Pablo Neruda once wrote,
Take bread away from me, if you wish Take air away But do not take from me your laughter
Humor has an almost mystical power to make life a little better, sometimes a LOT better.
That's why, in addition to being the VP for Practice and Innovation at Emory Healthcare, a Registered Nurse, and a Dr. of Public Health, Tim Cunningham is a professional Clown, trained at the Dell'Arte International School of Physical Theatre up in Northern California, and a board member of CLOWNS WITHOUT BORDERS, which you are going to hear all about in just a few moments.
Tim is going to tell us how being a professional clown has informed his work, world view, and personal life, and how all of that converged in all too real moments of life and death in a time of pandemic.
————————
Folks, the Music on Circle of Willis is written and performed by TOM STAUFFER and his band THE NEW DRAKES…
For information about how to purchase their music, check the "Music if Circle of Willis" page at circleofwillispodcast.com
Circle of Willis is Produced by SIVA VAIDHYANATHAN and brought to you by VQR and the Center for Media and Citizenship at the University of Virginia…
And that Circle of Willis is a member of the VIRGINIA AUDIO COLLECTIVE! You can find out more about that at Virginiaaudio.org.
Special thanks Circle of Willis Associate Producer GRACE BOYLE, NATHAN MOORE, General Manager and swell guy at WTJU FM in Charlottesville, VA, and tough as nails editor-in-chief PAUL REYES at VQR—otherwise known as the Virginia Quarterly Review, winner of the National Magazine Award for General Excellence, in 2019, and finalist for the same award right here in 2020.
If you like this podcast, how about giving us a little review at iTunes and letting us know how we're doing? It's super easy and we like it!
Or send us an email by going to circleofwillispodcast.com and clicking on the "contact" tab.
Find out more at http://circleofwillispodcast.com
This podcast is powered by Pinecast.